Working as a lifeguard seems to be the ideal summer job. Surely all you have to do is sit in that special chair, enjoying the sunshine and keeping an eye on swimmers in the pool? Well, there's a bit more to it than that, but it is a great job for anyone who likes being outside. Swimming pools, theme parks and holiday sites take on extra staff over the summer months, and they're starting to look now. You've not left it too late if you fancy a summer swimming pool job, but you need to start applying now.
Working as a Lifeguard – the Basics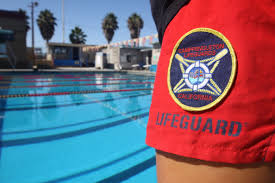 Let's get one thing straight. Put all ideas of Baywatch firmly from your mind. Being a lifeguard isn't about looking great in a red swimsuit or running in slow motion along the beach. Lifeguards look after the safety of swimmers. It's your job to watch what's going on in the pool. You're the person who jumps in to pool people from the water if they get into difficulty. Lifeguards have to be strong swimmers, that's a given. But you'll also need first aid skills, and be specially trained to rescue people in deep water. Often, lifeguards also help out with general pool maintenance and testing for water quality.
Qualifications and Training
The best way to get a lifeguard job is to do one of the nationally recognised training courses. The National Pool Lifeguard Qualification (NPLQ) is the most popular certificate. You can't start studying for this certificate until you are at least 16. The course covers three main areas. You'll learn all about the role of the lifeguard and how to control hazards. Then you'll be taught the practicalities of rescue, and dealing with injured people. Finally, there's practical first aid training covering resuscitation. Overall, the course takes around 36 hours to complete. There's a final written exam and a practical assessment of your first aid and swimming skills. There is a separate course for people who want to work as a lifeguard on a beach rather than at a pool.
Finding A Job
Once you have your precious certificate, you can start looking for work. To get a job as a pool lifeguard in the UK, there are a few other checks you need to go through. Employers will want to make sure you have the right to live and work in the UK. Take your passport with you when you go for an interview. You don't need to apply for a DBS check or a CRB check to train as a lifeguard. However, you'll be asked to apply for a DBS check before you start work. Getting a police records check is nothing to be worried about. Your new employer will explain the process for getting the checks done. They will also help you with the paperwork if you are unsure what to do. A minor conviction or a couple of cautions on a police file won't stop you from gaining employment. However, a longer police record might rule you out from this sort of work.