From an employer's point of view, taking on new staff can be difficult. It takes a long time to advertise, interview and make sure you're getting the right person for the job. If you're on the applicant's side of the table, it can seem like employer checks take forever. This can be frustrating, especially if you need to wait for your employer to finish checks before you can start. The law requires some checks, whereas others are at the discretion of the employer.
Employer Checks – the Legalities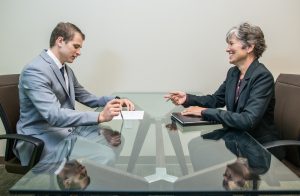 There are a few checks on workers that your employer has to do in order to comply with the law. This mainly concerns illegal working. Anyone taking on new employees in the UK has to make sure that the applicant is here legally and has the right to work. Employers usually ask all people coming for interview to bring their passports. If they have a UK passport, they have the right to work by default. The same applies to people with an EU passport. People from other parts of the world might have to show a work visa stamp in their passport. Take your passport to interview with you, and don't be surprised if your employer takes a photocopy for their records. Companies which employ illegal workers can be fined as much as £20,000 per worker.
DBS Checks
Not every job requires a DBS check. If you need to apply for a DBS check as part of a new job, this will be clearly stated at interview stage. Most jobs which need DBS checks are those involving positions of responsibility, or working with children or vulnerable adults. There are different levels of DBS check depending on the type of job. You will also see job adverts mentioning "CRB checks". Criminal Records Bureau (CRB) checks are an old fashioned term, but you'll still see it in some job adverts.
Credit Checks
If you're applying for work in a bank, insurance company or any job involving access to people's money, you might be asked for a credit check. This just involves signing to give permission to your employer to investigate your past. The idea behind these checks is to stop people with serious debt problems being tempted to dip into the till or steal from their employer. The good news is that it's easy to check your own credit file online and see what is on your record. Having credit cards and loans isn't going to cause you problems. Having lots of defaults on your record could raise concerns.
Health Checks
Health checks are a less common pre-employment check. Employers can only ask for health checks if the job requires it. This could, for example, mean asking someone applying for a driving job to have an eye test. It might also be a condition of the company's insurance that all new employees have a medical. If you need a medical, this is usually done at the company's expense but you might need to go to their offices to have it done.