We know – winter is barely over and we're already talking about summer jobs for students. But employers start their recruitment early, with the aim of getting people started immediately after their exams. You don't want to be left behind. For most students, a summer job is about paying off debts and building up savings to see you through the next academic year. So here are some of the best-paying summer jobs around.
Office Temping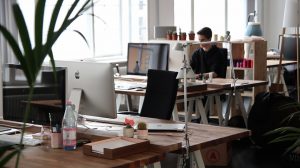 Offices around the country recruit temporary staff to cover holidays of permanent staff. Temp agencies recruit into the full range of office positions, from reception to accounts. The best thing about most office jobs is that they are office hours only. If you work overtime, you'll be paid extra. You keep your evenings and weekends free, or to take on a second job should you wish to. Sign up with a range of different agencies as soon as you can. Keep calling to check whether any new positions have become available. Pay will depend on the type of work you are doing. Also, if you're thinking of going into a business environment when you finish Uni, having some relevant work experience can give you an advantage over other candidates.
English as a Foreign Language
OK, so this one is going to require a bit of planning and up-front investment. People who have a certificate in teaching English as a foreign language can often have their pick of the best summer jobs for students. Many of the jobs are overseas, allowing you to combine a holiday with earning a bit of cash on the side. Many will also provide you with board and lodging when you're overseas. If you're not fussy about where you go, and are comfortable when meeting new people, then it could be a summer to remember. Getting the TEFL qualification in the first place can cost between £100 and £400 depending on provider.
Restaurant and Bar Work
The good thing about restaurant and bar work is that you can often find a job without previous experience in the sector. The basic pay might not be great – usually minimum wage – but the tips can make all of the difference. The downside to this sort of work is that the hours are irregular. You'll be expected to work when all of your friends are out having fun. You'll also need to be physically fit as most hospitality jobs involve being on your feet for the whole shift.
Lifeguard
Everyone wants to head to the beach or the pool in warm weather, so there are lots of opportunities for lifeguards during summer months. You'll need to take the professional lifeguard qualifications, which require swimming tests and life-saving practice. Lifeguards also need to apply for a DBS check, a criminal records check which was previously known as a CRB check. Salaries for lifeguards are usually higher than minimum wage. You'll spend most of your shift seated, waiting for something to happen. It's the ideal opportunity for anyone who enjoys being outside, and doesn't want the standard office environment for a summer job.