It's one of those life skills which we all hope we'll never have to use. First aiders are a common sight at major public events, and in the workplace. Having the ability to step in and act when there's a crisis can give you a feeling of control. First aid volunteer organisations are popular with people of all ages, from young teenagers to older, retired people. If it's something you want to get involved in, what do you need to know?
What sort of organisations recruit first aid volunteer staff?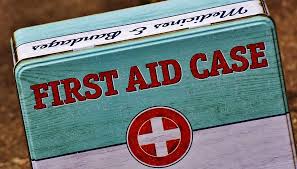 There is a wide range of organisations in the UK which provide training in first aid. Perhaps the two best known organisations are the Red Cross and the St John's Ambulance. St Andrew's First Aid does the same job as St John's in Scotland. These are the organisations which provide first aid support for large events and sporting fixtures. They also provide training in workplaces or schools. Other organisations might recruit first aid volunteers too. Many large businesses ask for staff volunteers to train up as first aiders. Usually, they'll pay for the training and your certificate can be used in other situations too.
Joining a first aid charity
If you're interested in getting involved with a first aid charity, then start your search online. Every organisation will have a website where you can look for more information. Email and ask how to get involved, or look up details of a meeting nearby. If you decide that it's something you'd like to take further, then apply to formally join. There's usually an introductory training course to teach you the basics, followed by monthly refresher sessions to keep your skills up to scratch.
First aid charities welcome volunteers from all backgrounds. There is a minimum age, but most charities have a youth section for those under the age of 18. You'll need to be fit and healthy too, with enough physical strength to keep up CPR for at least three minutes.  Providing first aid falls under "regulated activity" in terms of DBS checks, so before you can get involved with members of the public, you'll have to apply for an enhanced DBS check. This is the type of check which used to be known as a CRB check. You won't be able to volunteer at events until your DBS certificate comes through.
What sort of things might I be doing?
Most first aid organisations ask for a minimum commitment to attend a certain number of events each year. When you first get involved, you might not be able to select your preferred events. This comes with experience. Prove yourself reliable, and you could be providing first aid cover at your local football ground or a pop concert. Remember though that you're there to work, and might end up not seeing any of the event at all should someone need your assistance. As a first aider, you are there to deal with the minor cuts, scrapes and falls on the scene. It's also your job to keep more seriously ill people stable until an ambulance arrives.