Getting a new job often involves a huge amount of form-filling. So from a candidate's point of view, hearing that recruiters are adding yet another layer of paper isn't a good thing. But candidate experience surveys can tell a business a lot about what they are doing well. Perhaps even more importantly, it can help flag up issues with the way in which they employ new staff. Whether you've been asked to fill in one of these surveys, or are in charge of analysing responses, here's everything you need to know.
What are Candidate Experience Surveys?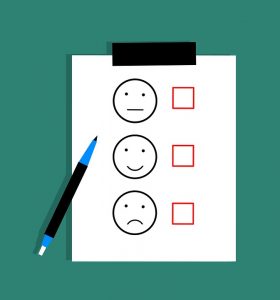 A candidate experience survey is about assessing how well your company's recruitment process is working. Everyone who gets to the interview stage in recruitment should be asked to complete a form, not just the successful candidates. It doesn't really matter whether questionnaires are digital, or on paper.
One main point of confusion is that many employers also ask questions about the candidates' work experience. They might ask them to fill in a separate survey about what they've been doing in previous positions, whether they have managed a team and so on. This type of survey is entirely different. We are talking about a survey which just concentrates on how the candidates found the recruitment process, nothing else.
What sorts of things should we be asking?
Designing the candidate experience questionnaire can be tricky. No candidate wants to plough through pages and pages of questions. This is especially true if you're not offering them a job. Keep it short and snappy, with ten questions maximum. However, having limited questions means you'll have to be very clear about what you're trying to find out. The most relevant questions will depend on your organisation. Ask open ended questions – "Please give feedback on the efficiency of the HR team" will generate more useful feedback than "Was the HR team efficient?"
Most companies ask whether candidates would recommend the company to a friend or relative, giving reasons why, or why not. You might also ask for feedback on how easy the website is to use, or whether candidates felt communication was clear and prompt. Leave space at the bottom for "any other comments" so candidates can add other information they feel is relevant.
Golden rules about questionnaires
There are other things to bear in mind if you are asking candidates to give up their time to help you out. It's a good idea to offer some sort of incentive to people who complete a questionnaire for you. Depending on the type of business this could be a discount voucher, voucher for a free coffee or some other small gift. You should ask for feedback from everyone, not just successful or unsuccessful candidates. Surveys should also be anonymous; candidates are far more likely to be honest if they know comments can't be linked back to them. Candidates should also be told about the experience questionnaires at the start of the process, so it doesn't come as a shock.
Timing of candidate experience surveys
The best time to send out candidate experience surveys is just after the interviews. It's the sort of thing which HR should do along with asking for CRB checks on the candidates who have been recruited.
Remember though that there are two sides to feedback. If as a candidate you're being asked to give your opinion of the recruitment process, then the recruiter should be prepared to give feedback too. It can be very frustrating to be rejected for a job, with no clear idea why. Asking for feedback gives you the opportunity to refine your skills for next time. Most recruiters are happy to do this but many don't give out feedback unless you ask. However, you have to be prepared to hear information which might be uncomfortable. Nobody likes hearing about their faults.
If you have been turned down because of something on your disclosure check, then this is a different matter. CRB checks, or DBS checks as they are now known, are checks on your criminal record. You can't just pretend offences never happened. But you can warn employers about them in advance. You can also demonstrate that you're a reformed character and reliable employee by giving references from previous jobs.